Вчера Бекка сварганила маленького снеговика из 3-х снежных шариков. Снеговик остался ночевать на улице на нашем придверном коврике. Сегодня, прихожу с работы и Тания мне говорит заглянуть в морозилку. Ну я туда заглядываю и кто вы думаете у нас теперь там живёт...

Yesterday Becky made a small snowman out of three snow balls of various sizes. The snowman was left to live outside on our door mat. Today, I come home from work, and Tania tells me to look inside my freezer. I go look. can you guess who now lives in our freezer....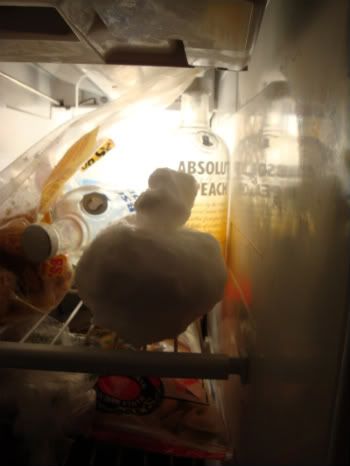 Да, это два верхних шарика от снеговика. Третий остался ночевать на улице опять. Почему этим шарикам надо было перекочевать в нашу морозилку, мне так и не объяснили.

Yes, that is two top snow balls from the snow man that lives outside. The third ball still sits outside on our door mat. Why two thirds of the snowman was transported to our freezer, I still don't know. Nobody would give me an adequate answer.
Да, и для любопытно-озабоченных нашими нравами, вы абсолютно правы; всего две бутылки Абсолюта это просто позор. Но не переживайте. Остальные бутылки водки прекрасно себя чувствуют в нашей второй морозилке в подвале.

Also, for those who are very much conserned about our freezer contents, yes, I agree, that two bottles of Absolute is a disgrace. But don't worry. All other vodka bottles are stashed in our big freezer in the basement, so we are well stocked.